Amazon Locker at La Torre Outlet Zaragoza. Where to find it and how it works?
It is here! Amazon Lockers have arrived at La Torre Outlet in Zaragoza. We have now become a pickup point for your Amazon orders. In this blog post, we will explain everything related to our Locker or Amazon pickup point: what it is, where it is in the shopping center, how to use it, and more.
We will now explain what Amazon Locker is and how this service, offered by the most famous online shopping platform, works for delivering orders when you are not be able to be at home to receive them.
What is an Amazon Locker?
Have you ever experienced the situation where you have ordered something from Amazon, and as the delivery date approaches, you are uncertain whether you will be at home to received it? Amazon Locker is a secure pickup point where you can have all your Amazon orders delivered, eliminating the need to worry about the exact day and time of delivery.
In this way, Amazon Locker is the perfect option for those who, due to their work schedule or infrequent presence at home, require a secure and efficient package pickup service. You can send your package to our Amazon Locker lockers, and once you receive notification that your package has been delivered, you can visit at your convenience to retrieve it.
Amazon Locker pickup points in Zaragoza
In Zaragoza, there are many Amazon Locker points where you can send your packages, but perhaps these Amazon hubs may not be close to you. You can check this Amazon Lockers map, but as you will see, most of these points are located in the city center.
So, when it comes to moving around, what better plan than spending the afternoon at our outdoor outlet and, in the process, picking up your package?
Amazon Locker near you at La Torre Outlet Zaragoza!
Discover our Amazon Locker next to our Artesiete cinema, in front of YuanLaosi Hot Pot restaurant and our Hedona grill. In front of our Hedona grill restaurant, you will find the pickup point for all your packages.
It is a black "locker cabinet" with "Amazon Locker" written on it. We can assure you it is easy to spot.
Map of its location
Below, we show you a map with the exact location of our Amazon Locker: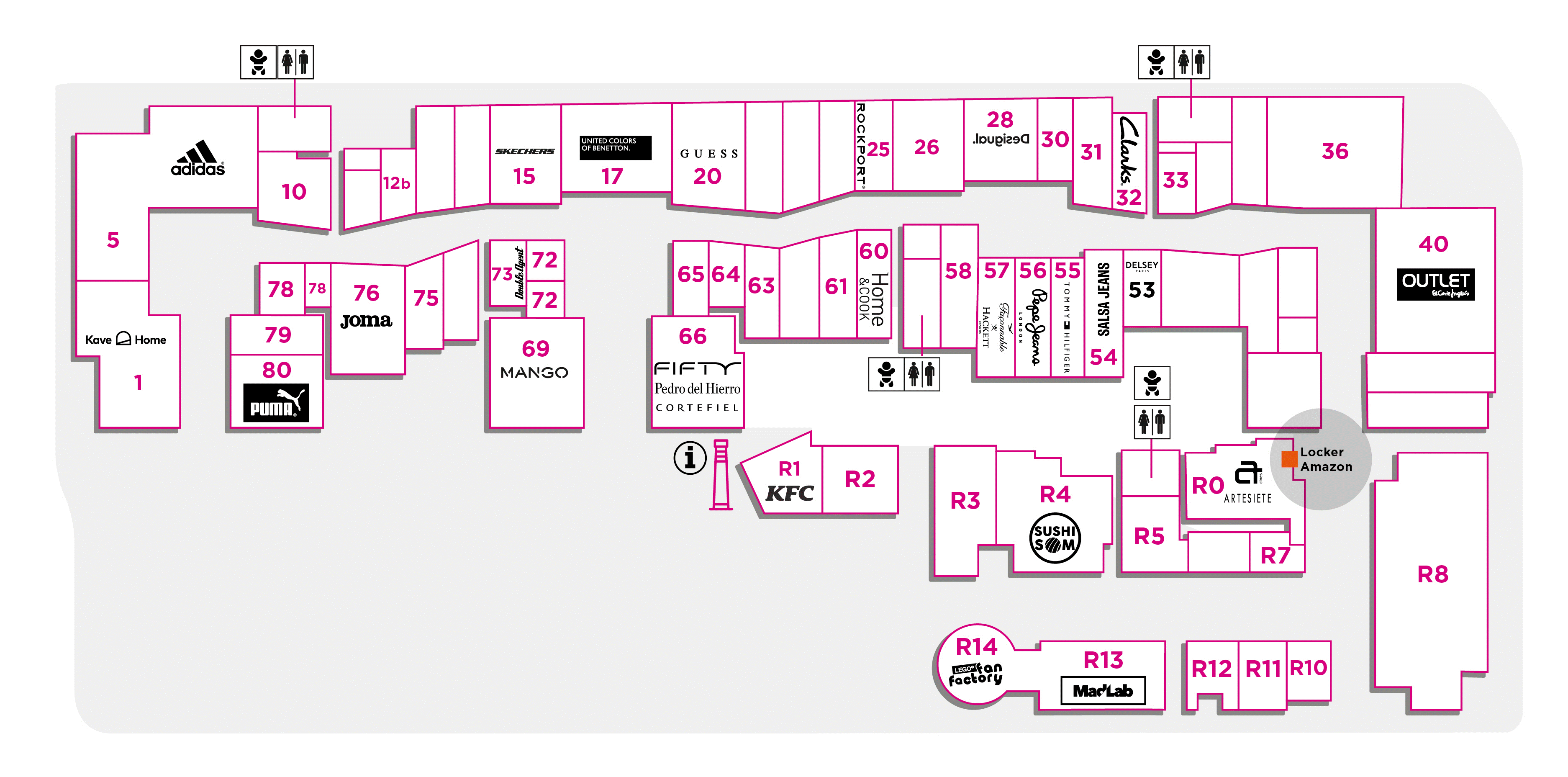 How does Amazon Locker work? Schedule and functioning
Amazon hubs, the Amazon Locker lockers, are available 24 hours a day, 7 days a week.
You can pick up your order whenever you want, as long as you have the code that Amazon will send you (once your order has been delivered to the locker) so you can open the locker assigned to your order.
The process for selecting delivery to our Amazon Locker and ultimately picking up your order is quite simple:
When you make the purchase through Amazon, instead of writing your home address as the delivery address, you should click on the "Pickup point" option. Then, it will ask you to enter your postal code, and once you have introduced it, it will show you the available pickup points in the area.
If you want to pick up your order at our Amazon Lockers, you should enter our postal code, 50011, and select La Torre Outlet Zaragoza. It is that easy!
How to pick up a package?
But perhaps you are wondering, once the order arrives, how can I pick up the package at Amazon Locker?
Once your order has been deposited in our Amazon Lockers, you will receive a barcode and a numeric code that you will need to scan (in the case of the barcode) or enter (in the case of the numeric code) at the Amazon hub where your package is in order to collect it.
What happens if I don't pick up a package from Amazon Locker?
If an Amazon package delivered in an Amazon Locker is not collected within a period of 3 natural days, the package will be returned to Amazon.
If this happens, you should contact the company and provide your order number to resolve the issue as soon as possible and request new delivery, either to our Amazon Locker point or to the address you specify.
Who can use it?
The Amazon Locker at La Torre Outlet Zaragoza is available for everyone. Anyone who wants to pick up their order at our Locker can do so without any issues. All Amazon customers have the option to send their orders to any amazon Locker.
How much does it cost?
The Amazon Locker service as a pickup location does not have any additional cost. It is an additional option provided by Amazon for product delivery.
Don't wait any longer and enjoy the benefits of our Amazon Locker at La Torre Outlet Zaragoza!